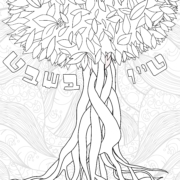 An interdisciplinary and pluralist collection of new work for Tu BiShvat, the New Year of the Trees: "TU biShvat is an invitation to focus on the natural world surrounding us–and at the same time, it makes us aware of our connectedness to each other, to the flow of time and stories, to the flow of cyclical renewal, to the spiritual worlds…This year, connection also is digital–we use a digital ecosystem to supplement a natural one…"
Here are prayers and practices for solitary pandemic celebration, meditations on trees in urban settings, coloring pages for contemplative creativity, prayers looking ahead to the year 2030, and more.
This collection was co-created by Trisha Arlin, R. Rachel Barenblat, R. Allie Fischman, R. Dara Lithwick, R. David Evan Markus, R. Sonja Keren Pilz, and Steve Silbert, and is intended for use by individuals and communities across and beyond the denominational spectrum. Read excerpts and download here: Connections.